The television show LOST has captured the interest of many viewers over the past six years. The
series
finale
, which aired on May 23rd, has polarized fans. The Sunday school class I teach at Crooked Creek Baptist Church hasn't focused specifically on LOST (yet!). But we certainly have focused on issues which have polarized Christians every bit as much as the LOST finale has polarized fans. And some of those topics are ones that LOST itself has explored: the meaning of existence, the nature of good and evil, the relationship of Christianity to other religions, and the afterlife.
I thus thought it appropriate to post on this topic, both to invite LOST fans in the Indianapolis area to a church that makes room for those sorts of conversations, and to share with friends at church (as well as anyone else who is interested) links to things I have written and interviews in which I am quoted commenting about LOST.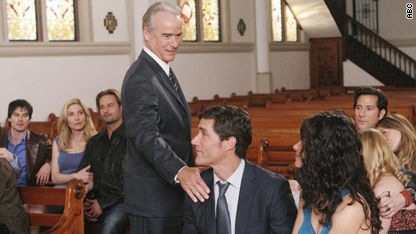 USA Today:
"God, the Devil and TV's 'Lost'"
MTV News:
"'Lost' Finale: Experts Talk Impact Of Religion On The Island."
E! Online:
"Can the Lost Finale Satisfy the Fans?"
Journal Sentinel:
"To The End, Fans Lost in TV's 'Lost'"
and
"Lost Theories Revealed"
I have also blogged extensively about LOST for the past several years on my own personal blog,
Exploring Our Matrix
.
Whether you are a LOST fan or not, Crooked Creek Baptist Church welcomes you to join us for worship, and for conversation about interesting and important topics!